We all know that person who has "their drink" at Starbucks. You know, the "Iced, half-caff, Ristretto, Venti, 4 pumps, sugar-free, Cinnamon Dolce soy skinny latte" type.
Life is complicated enough – you don't need to give yourself decision fatigue when you're making your morning coffee run!
Whether you want to stick with your tried and true beverage, or try something completely new, here are the 9 best Starbucks coffee drinks to try this year.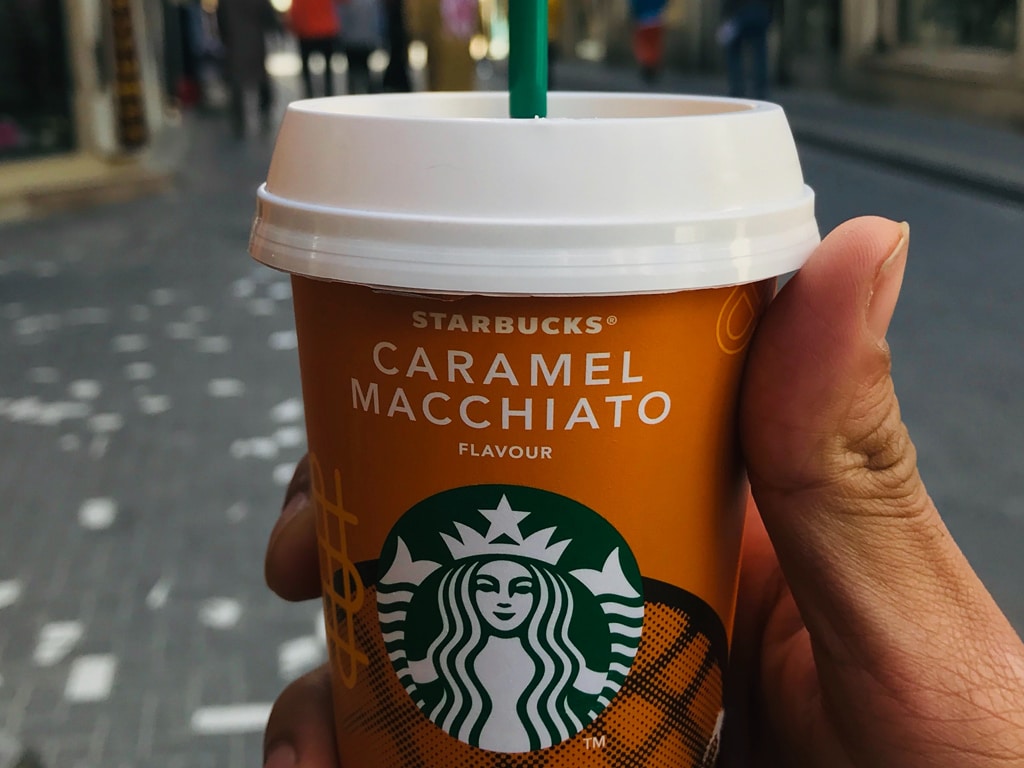 What Are The Best Starbucks Drinks?
Without further ado, here is our final list:
1. Caramel Macchiato
If Starbucks has a signature drink, their take on the Macchiato is a strong contender.
A "traditional" macchiato is basically a couple of shots of espresso "marked" with milk. Starbucks took the macchiato concept and made a beautiful layered drink, adding vanilla syrup to the milk and topping the beverage with a flavored drizzle.
Starbucks has a few different flavors that you can choose from to add their signature fancy spike of sweetness to the top of your drink. But the beauty of a macchiato is the strong flavor of espresso. So it's pretty hard to beat the Caramel Macchiato.
2. Honey Almondmilk Flat White
If you want a light, creamy espresso drink that's not super sweet, you have to try the Honey Almondmilk Flat White.
The flat white is a classic among coffee shop patrons for a reason. This blend of espresso and steamed milk may seem similar to a latte or a cappuccino. But the way the milk is steamed means that the espresso is the flavor MVP, with the milk's "microfoam" creating a sublime, velvety consistency.
Starbucks took their beloved flat white and made it even more awesome when they introduced the Honey Almondmilk Flat White. Their crisp, mellow Blonde Espresso Roast pairs fantastically with the lightness of almond milk. And their Honey Blend sweetener rounds out the rich flavors with just a touch of sweetness.
3. Caffè Americano
Where are my black coffee lovers at?
If you normally drink your coffee as black as your soul and you've never tried a Caffè Americano, you're seriously missing out.
It may be "just espresso and hot water," but that preparation brings out all the depth and nuance of the flavors in the espresso that can get overwhelmed in milk-heavy drinks.
Starbucks gives you a lot of options even when ordering a Caffè Americano, but this is a drink that really shines when left to its original form, which puts it proudly on number 4 in our list of the most caffeinated Starbucks drinks.
Despite (or maybe because of?) its simplicity, the Caffè Americano is one of the best coffee drinks you can order. Full stop.
4. Caffè Misto
Speaking of simple options, the Caffè Misto is a solid choice. Your barista takes equal portions of brewed coffee and steamed milk (2% is the default, but you have your choice of all the milks on the menu) and blends them perfectly to make a balanced, creamy beverage.
It doesn't have as much caffeine as an espresso drink because it's made with brewed coffee, but a Grande Caffè Misto will still help you start your morning right with 150mg of caffeine.
5. Starbucks Reserve Dark Chocolate Mocha
If you want the buzz of coffee but you don't care as much for the taste, Starbucks Reserve Dark Chocolate Mocha has your back.
Starbucks Reserve is different from their "regular" espresso. It's an exclusive, small-batch blend, so you may taste subtle differences between reserve batches. That's part of the charm!
Coffee paired with chocolate always enhances the flavor of the chocolate. So when you take the rich flavors in the small-batch espresso and combine it with cocoa, ground chocolate, and steamed milk, the result is a cup of sweet, decadent, chocolatey goodness.
6. Vanilla Sweet Cream Nitro Cold Brew
There's nothing quite like cold brew. And the Vanilla Sweet Cream Nitro Cold brew takes it to the next level with its sweetness and beauty.
The long process (almost a full day!) of steeping the coffee cold rather than hot means the coffee isn't harsh at all. Starbucks goes one step further: they infuse their cold brew with nitrogen, making it foamy and even more smooth.
What makes the Vanilla Sweet Cream Nitro Cold Brew even more special is the "float" of sweet cream infused with vanilla on top of the drink. Because of the microbubbles of the Nitro, the cream cascades beautifully through the coffee and around the ice.
The result is a true work of coffee art.
7. Starbucks Reserve Iced Hazelnut Bianco Latte
If you want a posh drink but don't want a lot of sweetness, the Starbucks Reserve Iced Hazelnut Bianco Latte is a fantastic choice.
And it just makes you feel fancy when you're ordering it!
What makes this drink particularly special is the way it's flavored. Rather than adding flavor syrups to the beverage as a whole, Starbucks uses a special hazelnut-praline-infused milk as the backbone of this luxurious coffee drink.
Delicious!
8. Iced Chocolate Almondmilk Shaken Espresso
The Iced Chocolate Almondmilk Shaken Espresso really shook up the iced coffee scene earlier this year.
Like the Honey Almondmilk Flat White, this new option for a tasty coffee drink was designed with a plant-based milk in mind, so you don't lose anything by making a vegan-friendly choice.
Your barista uses Starbucks' Blonde Espresso and shakes it with cocoa and malt flavors. They pour the coffee into a cup before adding ice and almond milk. So it's not just "chocolate almond milk with coffee."
Why "shaken?" Well, this technique helps cool the coffee down quickly and adds air for a smoother finish.
Plus, having your coffee "shaken, not stirred" helps you start the day feeling kind of like a secret agent.
9. Strawberry Funnel Cake Frappuccino Blended Beverage
Like most of Starbucks' signature Frappuccino drinks, this one's a show-stopper. And it hits you right in the nostalgia.
Starbucks launched the Strawberry Funnel Cake Frappuccino Blended Beverage this year, and it is everything we all needed to brighten up our summer days in 2022.
It's basically a strawberry-coffee milkshake with layers of whipped cream and strawberry puree, topped with powdered sugar and pieces of funnel cake. It tastes like all the best memories of a carefree summer's day at a fair.